Making a dog leash is slightly more involved in that you need something you might not be able to get at the craft store. You need a clip that will clip to the dog's collar, but you should be able to find that at a hardware store, and they are very low cost, so think about buying more than one! Taking this picture made me look like a freak in the store.
Buuut I did it anyway, while strangers stared at me trying to get a good angle. The most awkward person in the store award goes to Ryan.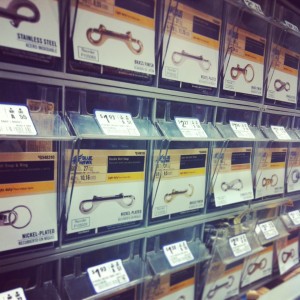 Supplies needed:
1.) Leash clip
*I opted for brass because it went so well with the navy & white material, but they come in a stainless
color as well
2.) Woven canvas material, this can be found at any craft store
3.) Basic Sewing Supplies *heavy duty needle, a heavier needle is needed for thicker fabrics
The cool thing about this is its ease of customization, you can make it any length you want, you can make an extra hand hold loop, but you don't have to.  I am going to do about 5 feet (it does not have to be exact), with an additional loop for an extra hand hold, which will be 2 yards total.  The leash can be any length you want it to be, us an existing leash to go from if you like it's length, or make it as long as you'd like.
*You can find the material for this in the ribbon isle of the craft store. If you are having trouble locating just ask somebody, it exists, I promise!
Step 1.)
Loop the material around the leash clip and pin it securely.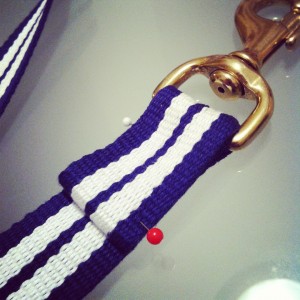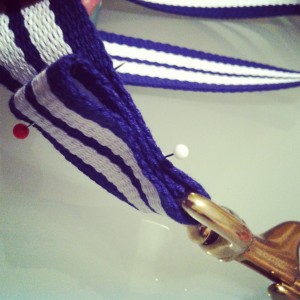 Step 2.)
Decide how big you want the hand loop to be and fold it under once so the frayed edge is not exposed and pin it securely. If you wish to add an additional hand loop (this is not vital but I like having an extra hand hold) measure the length of the one you just made so you can ensure they will be the same size.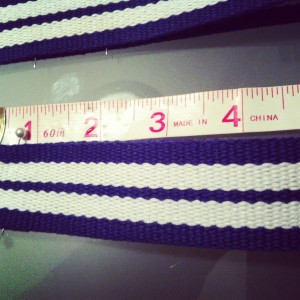 *If you are going with the extra loop I would suggest testing a few different places to hold before you pin,just so you know it is exactly where you want it to be.  Once you know where you would like the loop pin it securely.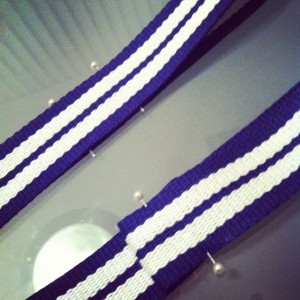 Step 3.)
I like to start my sewing at the leash clip and work up. I generally do a square around the material and then an X within the square. I chose to do lines instead of an X just for a change, but I prefer the X.  I like do this twice because this is the part of the material that will be the most stressed when walking and it would be terrible if it broke mid-dog walk.  Better safe than sorry, repeat the stitch twice. Try to keep it as neat as possible, but keep in mind even if it does not look the greatest it will do the job, so don't worry about it.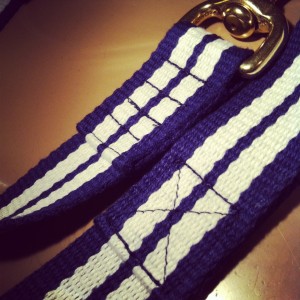 Step 4.)
Once the leash clip is attached you can move onto the extra hand loop.  The X pattern will work perfectly here as well, be sure to go over it at least twice.
For the main hand loop repeat the X pattern and you are finished!
VOILA! You now have a great dog leash that is ready to last the test of time! *Unless your dog is a dick that pulls your arm off, it will not last as long then.