Making a garter is actually really easy, I made one for a friend's wedding a few years ago and I wanted to try it again using elastic thread, dun dun dun. Actually using elastic thread was suuppperr easy and I just made sure to test it a lot before sewing on my final product.
Supplies needed:
1.) Elastic thread ($1.59 @ Joanns)
2.) Some kind of lace
3.) Basic sewing supplies, (& measuring tape)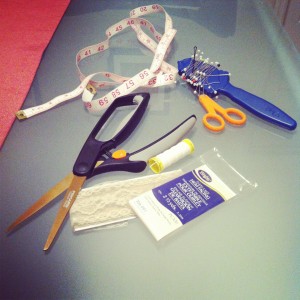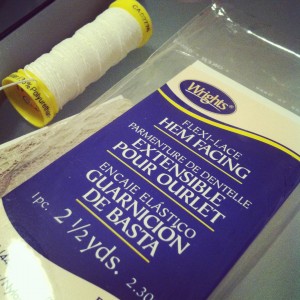 Step 1. 
Thread the bobbin loosely with the elastic thread.  The top thread will remain standard thread.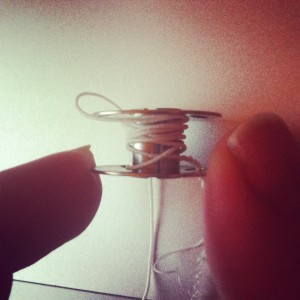 Step 2. 
I did a lot of experimenting with the locating of the thread, because the location of the thread changes the look of the garter.  Think about buying an extra package of lace so you can toy around with the location. You will also want to test for tension as well before sewing on your final product.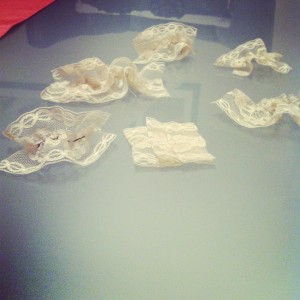 Step 3.
Measure your leg so you have a rough idea of how long the lace should be, it should be 2-3 inches longer than your leg measurement. (Measure twice cut once).
Once you have decided where you want the location of your thread to go (I chose the top) and if you are using more than one piece of lace pin it together. If you only want to use one piece of lace that would be fine too, and it would not require pinning.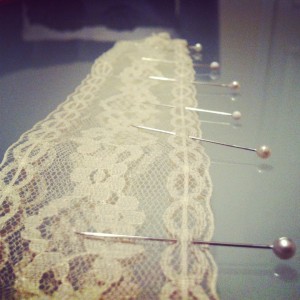 Step 4. 
Before you begin sewing be sure your tension is correct and your machine is sewing properly on the lace, I chose a finer stitch because I was sewing over the lace.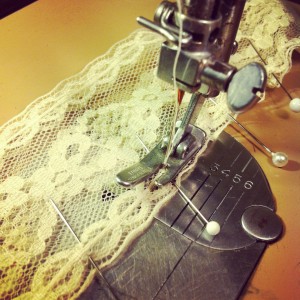 Step 5. 
Once you have sewn the length of the lace pin the ends together and stitch them together, and shhaa shaaaa you're done.